Well, we all know that it's that time of year again. We celebrated with a giveaway at the beginning of August and it just seems like this month is flying by way too fast. My kids start school on Sept. 2nd and I still have some shopping I need to do!! I've also been trying to think about cute gift ideas for their teachers as well as first day of school photo ops.
I spent some time on Pinterest last night trying to finalize some of these decisions for school prep. I LOVE the first day of school!! My boys still love going to school and it's just so fun to see them get so excited about meeting their new teacher and seeing who is in their class. My favorite part about them going back to school though, is taking those special pictures of them all dressed up and looking ready for a new school year.
Last year I cut out a number for them to decorate and hold in their pictures corresponding to what grade they were going into. It was fun for them, but I wanted to try something different this year. Here is a round up of some of the ideas I'm considering (click on the image to go to the source):
1. Back 2 School Photo Checklist ~ I'm totally printing this out and following it step by step on the big day. You know me, I'm photo crazy!! 🙂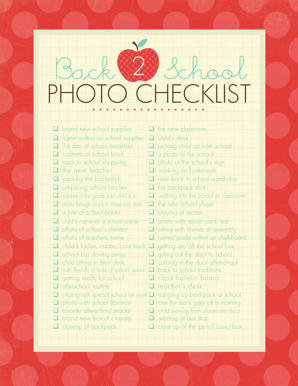 2. Back to School Photo Shoot outdoors
3. Chalk Board Props
4. Chalkboard with Child Info
 5. Outdoor Photo Shoot with Props
6. Instagram Hashtag Printable Props
7. Chalkboard Favorites List
8. Frame with Grade Printable
9. Outdoor with Props
10. 1st Day of School Frame
There you have it, my top ten favorite ideas for Back to school photos. I'll probably spend the rest of this week agonizing over this decision. I'm horrible at making decisions like this, so simple, but I make them hard! LOL
What did you do this year or what will you do in the coming weeks? I would love to have you link up your photos in the comments if your kids have already gone back to school. Mine don't start until Sept. 3rd so I have some time to contemplate this.
Thanks for stopping by! I hope you have a wonderful Monday!